Practical information for visitors
On Thursday 23 March at Flanders Expo Ghent you can get acquainted with the (international) labour market, as well as a wide range of further study options.
Prepare your visit well, and create your personal wish list on the website (possible after registration). You can download or print your wish list and take it with you on the day of the fair.
Location and accessibility
Location: Flanders Expo Ghent - Hall 1 - ground floor - Maaltekouter 1, 9051 Ghent
The fair is open to visitors between 12 pm and 6 pm.
We recommend using public transport, or visiting the fair by bike. Due to road works it will be impossible to use tram 1 between Gent-Sint-Pieters station and Flanders Expo. Between these 2 stops tram 1 will be replaced by a bus.
By bike
Coming to the fair by bike? If you come from the direction of Gent-Sint-Pieters station, just follow the signs. Bike racks to store your bike will be available near the entrance of Hall 1.
Want to plan your bike route? Use the city of Ghent's bicycle route planner (in Dutch).
By bus
On 23 March a special shuttle bus will go back and forth between Gent-Sint-Pieters station and Flanders Expo. From 11:30 am onwards you can take bus P76 at platform 5 at Gent-Sint-Pieters station. It will take you directly to Flanders Expo (stop 210026). The last shuttle bus back to Gent-Sint-Pieters leaves at 6:30 pm. You can also take the regular bus 76 at platform 6 to Flanders Expo. The cost of a bus ticket on shuttle bus P76 is the same as on any other bus.
Check here the departure times of the shuttle bus "flanders expo" P76
View the route planner of De Lijn here
By car
Visitors can park in the secure car parks B & C, operated by the city of Ghent and within walking distance of the entrance to Hall 1. Navigate to Louis Blériotlaan, 9051 Ghent. A parking ticket costs €12.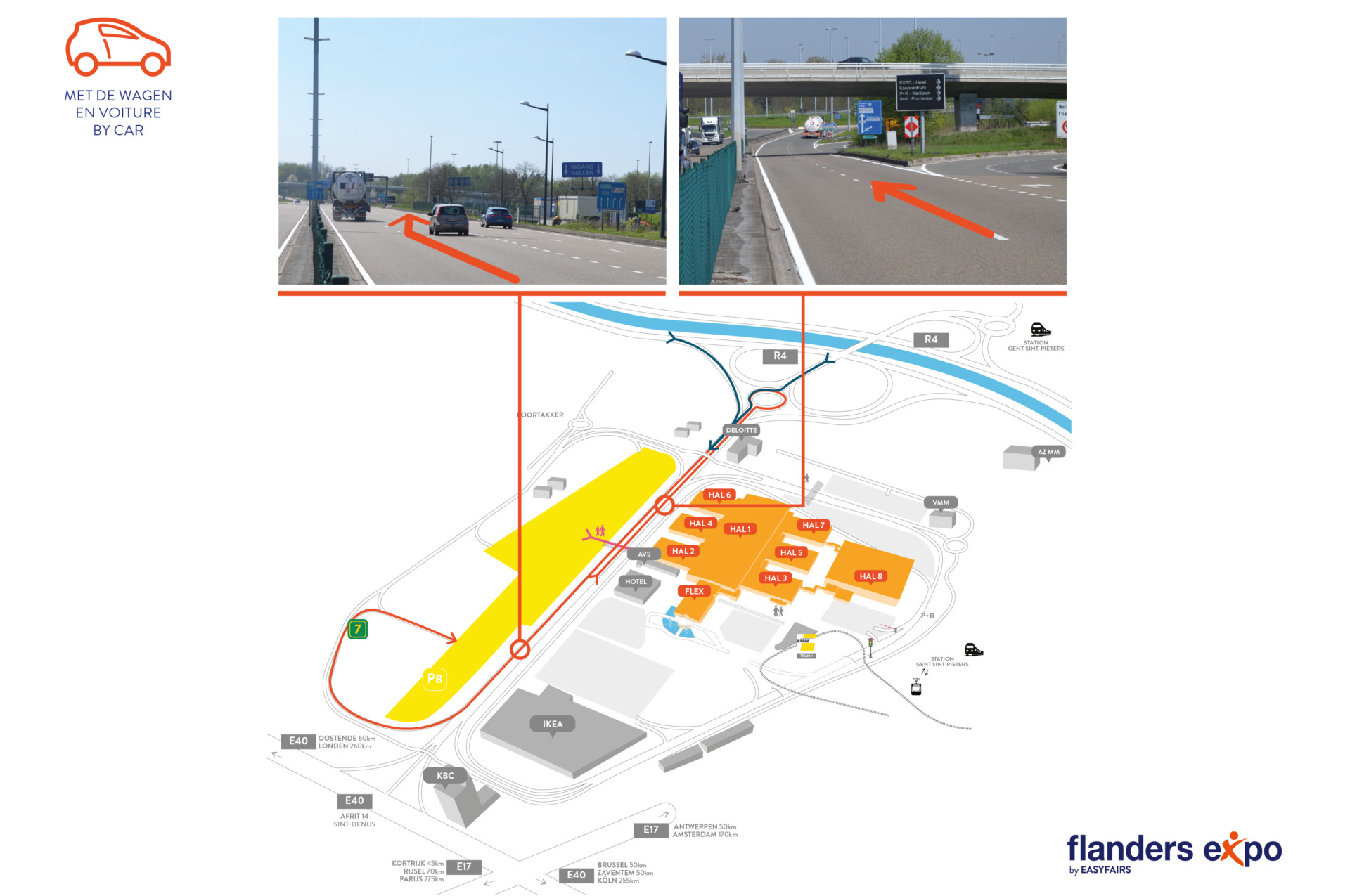 People with reduced mobility park for free in the provided parking spaces in parking lot PA4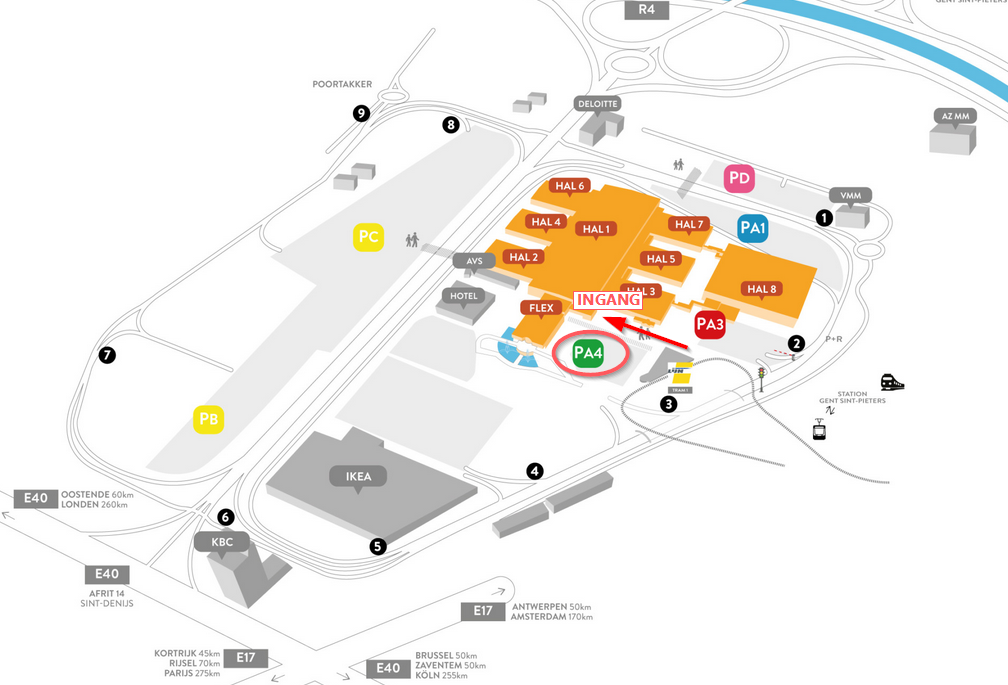 Access to the fair
Admission to the fair is free for all visitors. However, registration in advance is necessary. You can register here. Not registered in advance? You can still visit the fair, and register on the spot. However, we strongly recommend advance registration to avoid queues at the entrance.
To get access to the fair you need your personal QR code. Make sure you have your registration form with your QR code ready (printed or on your smartphone) at the entrance of hall 1.
We do not provide lockers nor a wardrobe. We therefore recommend leaving large backpacks and handbags at home.
Visitor badge
A personalized visitor badge will be printed for you on site!
Should you wish to do so, you can share your CV digitally with the companies present through a personalized (QR) code on your visitor badge. If you want to make use of this feature, you need to register in advance and upload your CV via the website.
The purpose of the visitor badge is to facilitate networking with companies and organizations present. Based on the color(s) on your badge, participating companies and organizations will be able to determine which field of study you come from, and what labour market sectors you are interested in. As a visitor, you will detect the same colors on the booth walls indicating the different profiles companies and organizations are interested in. The color coding can also be found on the A4 displays present in each booth.
Catering
During the fair drinks and sandwiches can be purchased in the catering area. Tables are provided, and there is space to sit down.
TIPS
There are more than 300 companies and organizations participating in the fair. So it is important to consult the overview of participating companies beforehand, check the floor plan as well as the detailed information in the online company book.
Do also make use of the online CV checks offered on Thursday 9 March. Register for participation in the fair and make an appointment with one of the many HR professionals who will be available to review and finetune your CV. That way, you'll be able to attend the live fair on 23 March with a revised and impactful CV.
PhD candidates and postdocs can also make an appointment for online speed career coaching on 9 March. Do you need help identifying your competencies and translating them to a specific work context? Do you feel uncertain about your future career path? A career coach can help you determine your strengths and weaknesses , as well as look for opportunities that allow you to further develop your skills and competences. You can put the advice you receive on 9 March into practice on 23 March.
Pictures & video
We take pictures and make video recordings during the afstudeerbeurs/Interuniversity Job Market for Young Researchers. These are used for publication on our respective websites and social media channels.
By registering for, and participating in, the fair, you give us tacit permission to take and publish non-posed, spontaneous photos and impressions. For targeted photos and interviews, we need your permission according to the privacy law. In case group photos, close ups, individual photos and/or interviews are taken, we will ask for your permission in writing on the spot.
If you would like to have published photo material removed, please send an e-mail to info@augent.be.