Company file of Boston Consulting Group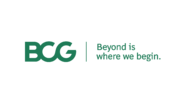 Interested in:
Law, Economics & Business administration
Young Researchers (PhDs & postdoctoral fellows)
IT, Technology and Engineering
---
0471340350
Company activities
Boston Consulting Group (BCG) is a global consulting firm that partners with leaders in business and society to tackle their most important challenges and capture their greatest opportunities. Our success depends on a spirit of deep collaboration and a global community of diverse individuals determined to make the world and each other better every day. BCG X brings together advanced tech knowledge and ambitious entrepreneurship to help organizations launch their next big bets and enable innovation at scale. We are technologists, scientists, programmers, engineers, and human-centered designers who build to address the world's most important challenges and opportunities. BCG Gamma as part of BCG X combines advanced technology with deep industry experience. BCG GAMMA creates custom solutions for the artificial intelligence generation that bring about end-to-end business transformation.