Company file of SOA People NV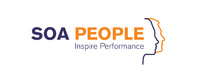 Interested in:
Law, Economics & Business administration
IT, Technology and Engineering
---
023861676
Company activities
SOA People is a leading partner in SAP-powered business strategy execution. We transform businesses and inspire performance by helping our customers align their organizational goals with the right processes and tools. What makes us successful is the talent and expertise of our people: intelligent, agile, flexible and responsive, they are good at maintaining strong customer relationships. People are at the heart of our strategy. Making sure we have the right talent for the right role is critical to our business.