Company file of SD Worx Belgium NV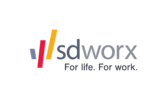 Interested in:
Social & Behavioural Sciences ~ Arts & Humanities
Law, Economics & Business administration
---
Company activities
Yes! The time has finally come for you to start your first job, or to pursue the job of your dreams via a career switch! At SD Worx we have been committed to giving HR and Payroll professionals the opportunity to spend a period of at least five months familiarizing themselves with the HR job of their dreams. Based on this experience, we have now set up the wonderful 'The Big Yes' project. Since, as a starter or career switcher, you sometimes experience difficulties and also have a lot to learn, we try to give you the opportunity in this project to develop and learn for six months before you start on a permanent basis. So what are you waiting for? The future is in your hands! Interested? Drop by our exhibition stand, or contact us via thebigyes@sdworx.com.