Company file of Sofico (soft and informatics company) NV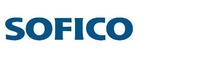 Interested in:
Law, Economics & Business administration
IT, Technology and Engineering
---
+3292108040
Company activities
Sofico is the world's leading supplier of mission-critical software solutions for automotive finance, leasing, fleet, and mobility management companies, and its software is used by a broad range of renowned leasing companies all over the world. Sofico was founded in 1988 in Ghent, Belgium, and has over 30 years of experience and business expertise in the industry. It is semi-privately owned, independent and currently employs 378 people in 8 offices worldwide. The company has installed its systems in 27 countries worldwide.